About Curtains
Can the curtains be washed?
Our curtains can be washed gently
Is it possible to choose a larger size for the custom size?
When selecting width and height for custom size, the two sizes cannot exceed 110 inches at the same time. If one side is smaller than 110 inches, the other side can be no length limit. The optional range of our custom size is limited to 200 inches. If you need a larger size, please contact us.
If the width of the area you need to cover is 100 inches, what is the width of the curtains I need?
To make the curtains have more ripple and folds when they are opened, and look more beautiful, the width of the curtains you need is:Recommended Curtain Width = 1.5 to 2 x Width to cover. For example, the width to be covered is 100 inches, so it is recommended that you buy curtains with a width of at least 150 inches. If you don't consider the curtain's beauty when it is opened, then to ensure that there is not too much gap between the sides, you need a width of 110 inches, which can meet the full coverage. The more the width exceeds 110 inches, the more ripple, the better the appearance.
For more information about the measure curtain, please check our measure guide.
Do sell rods?
Yes we have curtain rods: 
https://suchoutdoor.com/collections/accessories
How heavy are these will they hold up in the wind?
Our curtains have a weight bonus of 300 grams per square meter. This weight has a certain resistance to wind. We recommend between 2 and 8 inches of extra fabric when pooling. Because these curtains are pooling (puddling) on the ground, they will be a little more resistant to wind.
We recommend the grommet top & bottom because This type of top can resist greater wind.
Does it come with the poles to hang them and how big?
The package including curtains and ties. The order does not include curtain rods, which need to be purchased separately.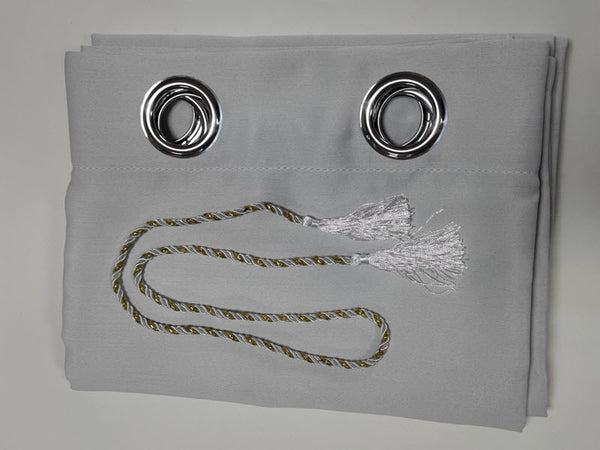 Do you have any other colors?
Currently, we have 24 colors to choose from. If you want other colors and patterns, you can place an order through our custom curtain products.
Custom pattern Curtains
How Do I Submit A Photo For My Custom Kit?

To submit a photo for your Custom Kit, simply click the "Upload" button on the custom product page and select the photo you'd like to send us. 
How Do I Choose What Image To Use?
We always recommend using large, high-quality images. Your file size should be no smaller than 1MB. For help deciding if your photo is large enough, just message our friendly support team - service@suchoutdoor.com 
Order Support

What kinds of payment methods do you accept?
We accept a variety of payment methods including credit/debit cards and Paypal.See more information about payment on Payment page.
Can I modify or cancel my order?
Yes, we accept any changes to an order. Please note that if you need to make any changes to your orders, please contact our Customer Service within 24 hours of placing the order.   
Shipping
How long can I receive the package after placing the order?
All orders are processed within 2-6 days. Orders are not shipped or delivered on weekends or holidays. The shipping time about 5-8 days. The total delivery time is 8-14 days.
How long to process an order?
Order delivery times as mentioned above do not include order processing times.

All orders are processed within 2-6 days. Orders are not shipped or delivered on weekends or holidays.

Non-customized Curtains: Processing times for stock designs (ie not Custom Kits) is 2-4 days. 

Customized Curtains: Processing time for custom kits is 4-6 days. Custom orders include custom sizes curtains and custom pattern printing curtains
Can I know where my package is and when it will be delivered?
Yes, of course, you can. Tracking information including a tracking number and tracking link is emailed to you after shipment. Please noted that though we send the tracking information the moment we ship the package, it does not mean you can find the tracking information online right away. The tracking information becomes available online in 1-3 days. 
Can it be shipped to my address?
Suchoutdoor.com delivery country is:
United States, Canada
Australia
United Kingdom, France, Germany, Spain, Italy, Ireland, Belgium, Austria.
Sorry, we do not ship to other countries other than the above countries.
From where are your products shipped?
Orders are shipped from either our UK, US, Australian or Asia warehouses. The country of shipment will depend on your address and the items you have ordered.
My order hasn't arrived on time, what should I do? 
If your order has not arrived in the specified delivery time, you can track your order to see where it is located. Sometimes orders are delayed due to customs hold ups. Please reach out to our customer service team at service@suchoutdoor.com and we will provide you with the latest update.
When I sign for the package, I find the package is damaged.
Before you sign for the package, please check the package carefully if it's completed without any damage.If it's damaged,you can refuse to sign for it.Please take a picture to show the problem and contact us soon. We will help you solve the problem. 
Why Did I Only Receive Part Of My Order?
We ship our kits from multiple printing facilities in different locations. As a result, kits within the same order may be shipped from different facilities and arrive at slightly different times. Some items in your order may arrive before others. When this happens, it is likely that the remaining items in your order are still in transit and will arrive very soon.
Why Did I Receive Multiple Tracking Numbers With My Order?

Because we ship from multiple locations, your order may arrive in multiple packages. Each package is assigned a different tracking ID. 
Return And Refund
What if my order arrived incomplete, incorrect, damaged or defective?
Your satisfaction is our priority. Please contact us within 24 hours from receiving your order if you received merchandise that is incorrect, missing, and/or defective. Please include your order number, photographs of the item(s), and all related references upon receiving your package. We will do our very best to resolve your case as soon as possible.
I do not like the received items, can I return them for exchange?
Yes, of course, you can. Please return to exchange the items for the same price. If the received items do not have any quality issues, you are responsible for the return shipping cost. If the received items have quality issues, just contact us when you receive them. We will help you solve the problem.
What is Return Policy?
Suchoutdoor is always committed to providing the best service to our valued customers. In order to provide a better shopping experience and customer service, we offer a full 7-day refund. For any dissatisfaction within 7 days after you receive your package, then please contact us at email service@suchoutdoor.com to issue return request.
To qualify for a return, your item must be unused and in the same state as the item you received. It must also be in the original packaging.
If our goods are defective, we provide a 100% return refund. 
If you don't like the goods you bought, we also provide returns, requiring you to pay a 10% return fee.
When will I receive my refund?
All refunds will be credited to your original form of payment. If you paid by credit or debit card, refunds will be sent to the card-issuing bank within 7-10 business days of receipt of the returned item or cancellation request. Please contact the card-issuing bank with questions about when the credit will be posted to your account.
If you haven't received a credit for your return yet, here's what to do: Contact the bank/credit card company. It may take some time before the refund is posted to your account.
About product creases
 In order to protect the goods from being damaged during transportation, we will fold the canvas and wrap it up. The canvas is made of cotton and linen, so creases are normal. But don't worry, the slight creases will not be seen after the painting is done.

 Here are some ways to reduce creases: You can spread the canvas and place a heavy object on it to reduce creases. If it cannot be flattened, you can try ironing or steaming the canvas. 
If the crease you received is serious and cannot be used, please contact us, we will reissue a new package for you
About Us
Are you a US based company?
Our company is in US, our factories are located in China.
Where do you ship from?
Our company is in US, our factories are located in China. Orders ship from our factories. Some orders are shipped from our warehouse in the U.S.
If you cannot find the answer to your question in our FAQ, please contact us at service@suchoutdoor.com. and we will give you a response as soon as possible.